Posted on February 2, 2021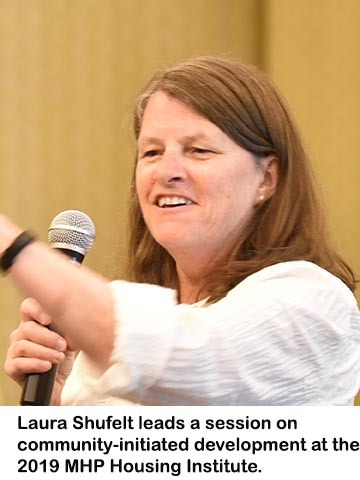 BOSTON --- The Massachusetts Housing Partnership (MHP) has named Laura Shufelt director of its community assistance team.
"Laura has a wealth of experience in housing development, housing finance and local government in Massachusetts," said MHP Executive Director Clark Ziegler. "Her experience and dedication to affordable housing are reflected in successful affordable housing developments all over the Commonwealth."
Shufelt joined MHP in 2011 as a community assistance manager and was promoted to assistant director in 2017. She is knowledgeable on a wide range of issues and practices, including proper and effective use of public funds and land, housing lotteries, fair housing, housing authority development and the state comprehensive land use permit law (Ch. 40B).
Since joining MHP, she has been particularly focused on providing technical assistance to communities and housing authorities. She has also been closely involved in the planning and execution of MHP trainings, as well as trainings with partner organizations such as the Citizens' Housing and Planning Association. She also represents MHP and its policy agenda on relevant state and regional affordable housing committees.
A native and resident of Cape Cod, Shufelt is a graduate of the University of Rhode Island with a bachelor's degree in elementary education. She began her career as a science teacher. Her path toward affordable housing began when she became a commercial lender, which included work in affordable housing finance. This led to a career as an affordable housing development consultant for housing authorities, towns, and for–and non-profit organizations. Prior to MHP, she was director of development for the Falmouth Housing Authority.
"My experience in finance, strategic planning and housing development prepared me for the work I do at MHP," Shufelt said. "I am looking forward to working with my team to help communities, housing authorities and nonprofits create more affordable housing."
About MHP: Created in 1985, MHP was at the outset an organization that specialized in providing assistance to communities trying to create and preserve affordable housing. Since its inception, MHP has provided guidance and technical assistance to over 300 communities. In 1990, the state Legislature passed an interstate banking act that required companies that acquired Massachusetts banks to make funds available to MHP for affordable housing. Since then, MHP has used $1.2 billion in bank funds and additional capital sources to finance over 26,000 apartments. Also in 1990, MHP helped create the SoftSecond Loan Program to address racial discrimination in mortgage lending. The program – now called ONE Mortgage – has partnered with over 40 lenders to help over 23,300 low- and moderate-income households purchase their first home. Half of these buyers are people of color. In 2017, MHP created the Center for Housing Data to support all its work and promote policies to allow more housing in response to demand. For more information about MHP, contact Director of Public Affairs Rus Lodi at rlodi@mhp.net.