Posted on May 7, 2021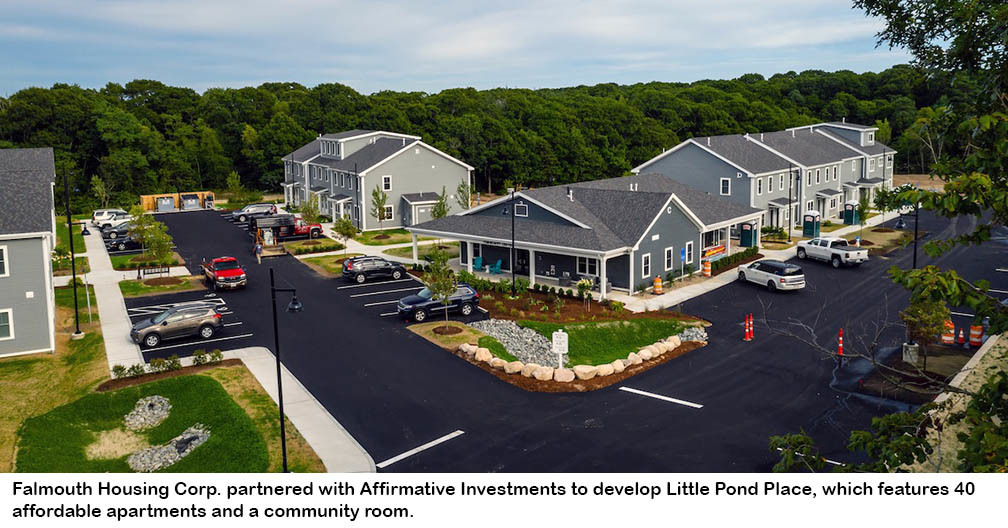 (Partner Profiles is a new periodic series by MHP that takes a look at people and organizations that are creating affordable housing and making their communities stronger).
FALMOUTH --- One of most effective and important local partners MHP works with is the Falmouth Housing Corporation (FHC), which has been addressing the emergency and long-term housing needs of lower-income individuals and families for 25 years.
Founded in 1996, FHC has created 243 affordable apartments during a time when Falmouth's overall housing production has declined. FHC's determination to serve Upper Cape households who need it most was evident during the pandemic, as it completed 50 more affordable apartments while working every day to make sure its existing residents remained healthy and safe in their homes.
"This past year has tested us," said Linda Clark, FHC's executive director earlier this year. "From our supportive services staff making sure that no tenants fell behind in their rent to our management staff holding lotteries so that 50 households could move into our new homes to our maintenance staff making sure our residents had what they needed, we are proud that we have lived up to the immense challenge of COVID-19."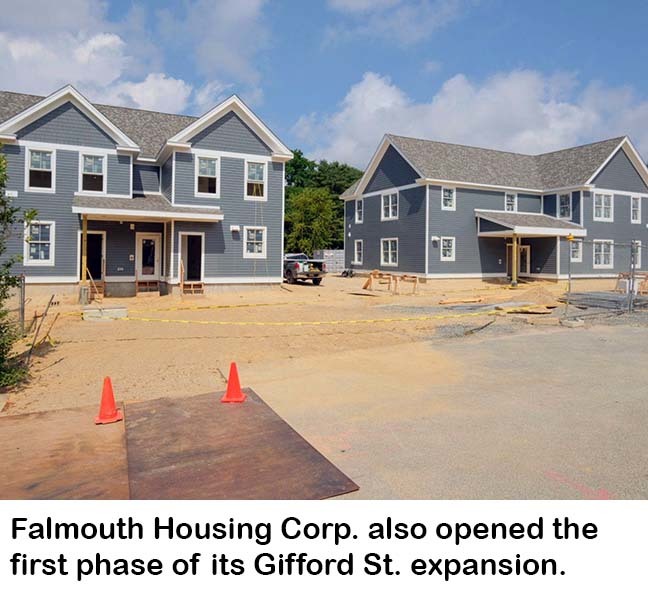 FHC's major achievement was the September 2020 opening of Little Pond Place, a 40-apartment, 100-percent affordable housing development located on a 21-acre site on Spring Bars Road that the town purchased from a local property owner in 2010 for $3 million.
Co-developed with Affirmative Investments – a partner on two previous FHC developments - Little Pond Place features 14 one-, 22 two- and 4 three-bedroom apartments. It features three apartment buildings and a community building. The apartments are affordable to households between 30 and 80 percent of area median income and are within walking distance of the central business district and a regional bus route that serves Cape Cod.
FHC also began the expansion of its 50-unit Gifford Street residential and human services campus, completing 10 affordable apartments in phase one of a two-phase expansion that will add 20 apartments. The phase 1 apartments are affordable to households between 50 and 80 percent of area median income.
MHP is supporting these developments with loan commitments from its bank-funded loan pool. It is providing a $2.3 million permanent loan for Little Pond Place, a $520,000 loan for Gifford Street phase 1 and $500,000 loan for phase 2, which is slated to be completed by 2022.
Long history with Falmouth Housing Corp.
Since 2002, MHP has used its funding sources to provide FHC over $14 million in loans for the financing of 232 apartments. MHP's financing has supported the original Gifford Street development, 704 Main Street, Edgerton Drive, Nonantico Woods, Schoolhouse Commons for seniors, and Bridgeport, which provides housing for the formerly homeless.
These developments were developed by FHC or with other partners. It developed 704 Main, Schoolhouse and Little Pond with Affirmative Investments, and collaborated with the Cape Cod Council of Churches for Bridgeport, which is located on the Gifford Street campus and near its service center and food pantry. The Town of Falmouth has also been a key partner throughout, providing land, zoning and funding to help make FHC's affordable housing a reality.
"The Falmouth Housing Corporation has always had a holistic approach to developing affordable housing," said Clark Ziegler, MHP's executive director. "They realize that creating apartments at prices people can afford is just part of the solution and they always seek partnerships that help them provide stable housing and the services their residents need to achieve long-term success."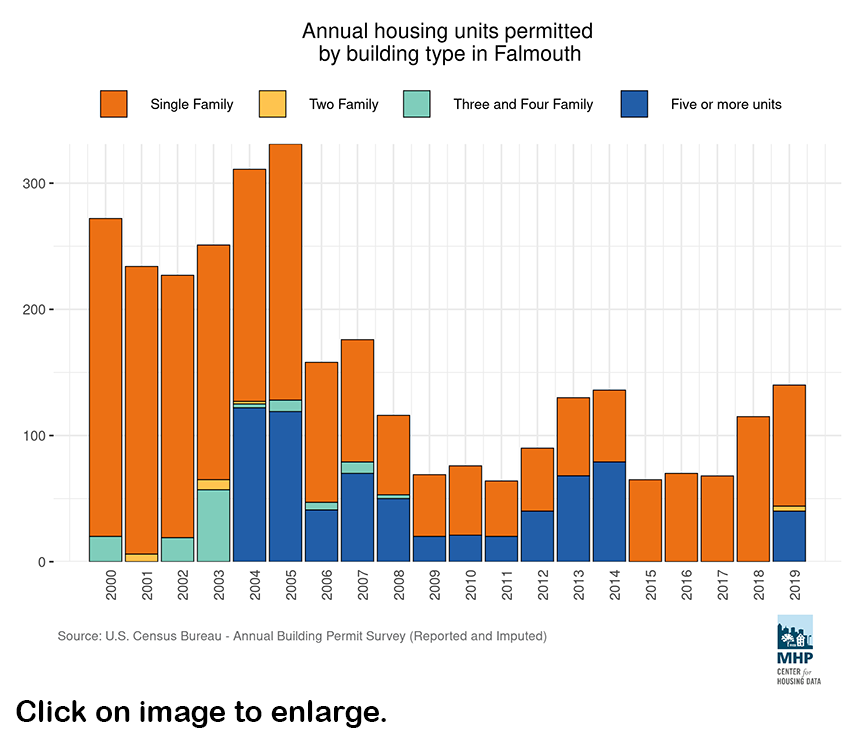 FHC has created affordable housing during a time in which housing production has dipped significantly. According to MHP's DataTown web site, which provides housing and demographic information for all 351 Massachusetts communities, the majority of the housing stock and recent building permits in Falmouth over the past 20 years have been for single-family homes – many of which are second homes or used for seasonal rentals. The permitting of Little Pond was the first multifamily development of five or more units OK'd in the town in five years, according to U.S. Census building permit data analyzed by MHP's Center for Housing Data.
"The 50 apartments completed this year are a major asset to the town and Cape as a whole," said Linda Clark, who took over as executive director in 2013 following the death of FHC founder Bob Murray. "To have kept our heads above water while increasing housing options is a testament to not only our effort but the effort and support of the affordable housing community on the Cape and throughout the Commonwealth. We look forward to continuing to work with partners like MHP to build more housing."
Supporting for- and non-profit borrowers
Since 1990, MHP has made over $1.4 billion in loans and commitments to for- and non-profit borrowers for the financing of over 26,000 apartments. Throughout its 30 years of lending, MHP has maintained many long-lasting relationships with many nonprofit borrowers like FHC, Harborlight Community Partners on the North Shore, Main South CDC in Worcester, Wayfinders in Springfield, The Neighborhood Developers in Chelsea, and all the Boston nonpofits, just to name a few.
"Our work with FHC is just one of many examples of MHP's ability to sit down and work with mission-driven developers to bring more affordable housing to their communities," said Nancy McCafferty, MHP's director of business development. "This is what we love to do. This is why we get up every day."

For more information about MHP's financing programs, current interest rates and how it supports its partners, contact Director of Business Development Nancy McCafferty at nmcafferty@mhp.net or Senior Relationship Manager Alma Balonon-Rosen at almabr@mhp.net.