Posted on June 16, 2021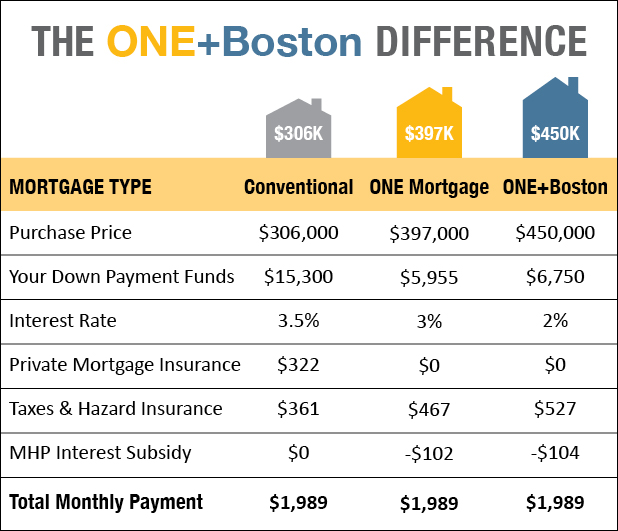 BOSTON --- One year after its launch, ONE+Boston continues help low- and moderate-income Boston residents and people of color purchase homes in the city.
A joint effort with the City of Boston and the Massachusetts Affordable Housing Alliance (MAHA), the new program and its partner lenders have closed 68 loans as of June 21. This is up from 48 loans that were done as of April.
Also, 74 percent of ONE+Boston buyers who've closed are households of color and 65 percent have purchased market-rate properties. This reverses a trend from previous years, when approximately two-thirds of our Boston volume has been deed-restricted affordable units. For the consumer, buying a market-rate property means they can realize the full appreciation of the property upon resale.
"The early successes of ONE+Boston are very encouraging," said Elliot Schmiedl, MHP's director of homeownership. "We're thrilled that so many Black and Latinx homebuyers have used the program to lay down roots within the City of Boston and can now begin realizing the wealth building opportunities that owning their own home can provide."

ONE+Boston combines the low-cost features of the statewide ONE Mortgage program with $8 million in city funds to help more first-time Boston homebuyers buy in the city. With the additional city funds, ONE+Boston is able to offer discounted interest rates and increased down payment assistance to first-time buyers. Features include:
Boston residents who earn between 80 and 100 percent of area median income will receive a half percent (0.5%) discount rate off the already low-interest rate offered through the ONE Mortgage product (currently about 3 percent).
Boston residents who earn below 80 percent of area median income will receive up to one percent (1%) off of the current ONE Mortgage rate.
Qualified buyers will also be eligible for down payment and closing cost assistance through the Boston Home Center.
Santander Bank, Boston Private and Cambridge Trust were the first lenders to offer ONE+Boston. Citizens' Bank began offering the program earlier this year. The City of Boston Credit Union and The Cooperative Bank have just joined the program.
Down payment assistance has been a key to the city's strategy to increase homeownership through programs like ONE Mortgage. Since 2014, the Boston Home Center has provided down payment assistance to over 700 homebuyers, 70 percent to people of color.
ONE Mortgage - the state's most affordable mortgage program - has made over 22,000 loans statewide since 1990 and over 5,800 loans in Boston, 57 percent to people of color. It is offered by over 40 lenders across Massachusetts. State funds are used to reduce monthly payments during the early years of homeownership and to fund a loan loss reserve, which helps the borrower avoid the cost of purchasing private mortgage insurance.
The creation of ONE+Boston began in 2018 when MAHA and the Greater Boston Interfaith Organization applied for $3.8 million in Community Preservation Act funds. In 2019, Mayor Marty Walsh announced that the funding would be used for ONE+Boston. In 2020, the mayor and Boston City Council supported a measure to add another $4 million in CPA funds. In 2021, Walsh recommended and the city council approved $5 million more in CPA funds to support the program. It's estimated that ONE+Boston will help between 150 and 250 residents buy homes in the city.
"Thousands of Boston families, including mine, have benefited from the ONE program, which was originally developed 30 years ago to address racial disparities in lending," said Symone Crawford, Director of Homeownership Education for MAHA. "We are excited to build on that program and see it help more people buy homes in the city and help us make progress in closing the racial homeownership gap."