Posted on February 15, 2021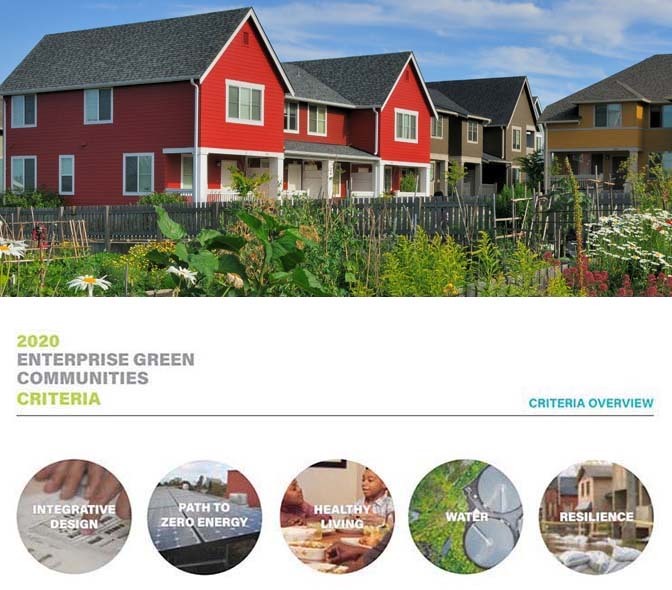 In its ongoing effort to promote sustainable affordable housing development, MHP recently hosted an Enterprise Green Communities Criteria virtual workshop.
The event - held on Feb. 12 - featured two experts from Enterprise Community Partners' Green Communities initiative, the nation's only national green building program designed explicitly for affordable housing construction. It is one of the green certification programs that borrowers can pursue to qualify for financing and other incentives through MHP's Green and Healthy Housing Program.
This event was co-sponsored by MHP, the Local Initiatives Support Corporation Boston, the Massachusetts Association of Community Development Corporations, and the Citizens Housing and Planning Association.
Since this workshop, MHP has revised its Green Building Certification Financing (GBC) term sheet. The program now offers a new tier of 40-basis point rate discounts for zero energy certifications and an elevation of incentives offered for green and healthy certifications, including Enterprise Green Communities 2020.
This virtual workshop focused on the requirements, recommendations, and important considerations regarding the recently released 2020 Enterprise Green Communities Criteria. Discussion centered on the critical components of the 2020 Criteria, significant changes as compared to the 2015 Criteria, and available resources for the certification process. The workshop also identified best steps for development teams to take in order to ensure successful certification.
Watch the Enterprise Green Criteria 2020 Workshop
The event featured Krista Egger, vice president of national initiatives at Enterprise Community Partners, and Shelby O'Neill, senior program officer for the national Building Resilient Futures initiative of Enterprise Community Partners.
Enterprise Community Partners is a national nonprofit that supports affordable housing in a variety of ways, from community support to advocacy to investing capital to create and preserve rental homes people can afford. The Green Communities 2020 Criteria is the latest version of the guidelines, first introduced in 2005. Updates include a Path to Zero Energy, new water-quality standards, and a new approach to affordable housing in rural areas, tribal communities and small towns.
MHP's Green & Healthy Housing Programs
MHP is hosting the training as part of its effort to encourage more sustainable, resilient, and high-performance affordable housing through its Green and Healthy Housing Program. Since launching this program in 2019, MHP has closed on long-term financing to NewVue Communities/Twin Cities CDC for James G. Carter School in Leominster. James G. Carter School is an adaptive reuse development that achieved Enterprise Green Communities certification under the 2015 Criteria.
For more information on this event, please contact MHP's Alma Balonon-Rosen at 857-317-8578 and almabr@mhp.net or Deepti Kamma at 857-317-8532 and dkamma@mhp.net.