Posted on October 5, 2020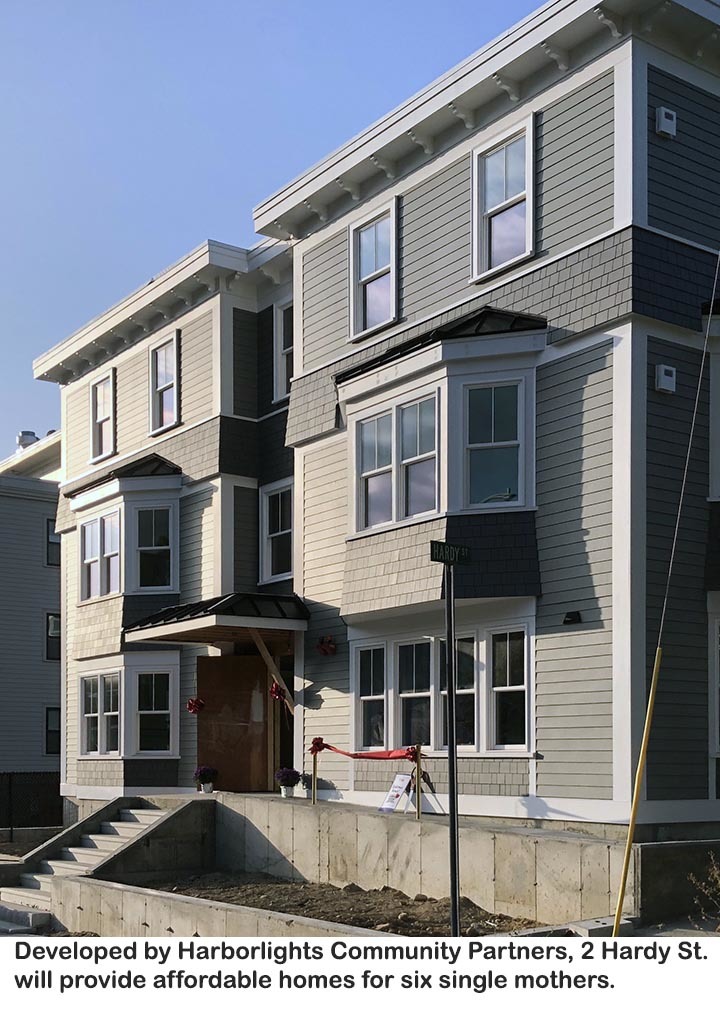 BEVERLY --- Continuing its record of financing small affordable developments, the Massachusetts Housing Partnership (MHP) recently participated in a "socially-distant" in-person open house of 2 Hardy Street in downtown Beverly.
Developed by the nonprofit Harborlight Community Partners, 2 Hardy Street is a brand new three-story, energy-efficient home with six two-bedroom, 950-square foot apartments. Three are for households up to 30 percent of area median income (up to $28,450 for a household of two). Three are for households up to 50 percent area median income (up to $47,400 for a household of two).
All six are supported with project-based rental assistance, which means residents will pay no more than 30 percent of their income for housing. All six have been rented to single mothers who each have one child, and who go to school or work in the area in professions such as retail, hair styling and home health care. Some of the new residents are coming from housing where they were paying far more than 50 percent of their income for rent, and some have been "doubled up" for many years, unable to secure an affordable home, according to information provided by Harborlight.
Hardy Street is a three-minute walk to the Beverly Depot train station. It was designed to fit in with the many older homes that are on the small streets that run perpendicular between Cabot and Rantoul, the city's two main business and multifamily residential thoroughfares.
MHP supports affordable development big & small
MHP has committed $820,000 in permanent financing and also worked with Harborlight to secure project-based rental assistance for all apartments. A long-term lender that has financed over 275 projects and 26,000 rental units, MHP's mission is to support affordable housing developments big and small. With 2 Hardy Street, MHP has now financed 136 small projects of 5 to 20 units, totaling $63.7 million for the financing of 1,652 units of rental housing.
"The Hardy Street project is exemplary of what can happen when MHP, state initiatives, local funding efforts and many development partners are aligned, pulling in the same direction," said Andrew DeFranza, Harborlight's executive director. "The deep affordability of these homes is critical to those in our community doing work we rely on every day but do not earn a living wage."
2 Hardy Street is a product of the Baker-Polito Administration's Community Scale Housing Initiative, which provides funding for projects between 5 and 20 rental units in communities with a population of no more than 200,000. This program provided $900,000 in no-interest, deferred payment loans.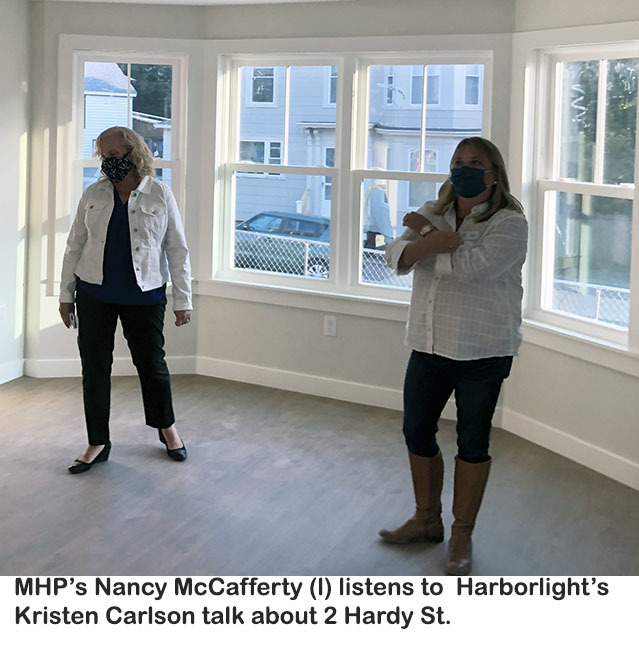 Strong support from City of Beverly
The City of Beverly was a strong supporter. The land for 2 Hardy Street was conveyed through the city's inclusionary zoning bylaw, which requires developers to include affordable housing in their projects. The developer who conveyed the land – Beverly Crossing – opted not to include the required affordable housing in its market-rate development on Rantoul St., but instead sold the vacant lot behind its development to Harborlight for $100 for affordable housing.
The city also provided $125,000 in HOME funds, $200,000 from its affordable housing trust and $190,000 in Community Preservation Act funds. Additional financing was provided by the North Shore Home Consortium. North Shore Bank was the construction lender. In related support, the city received a $150,000 Housing Choice state grant to support accessibility, pedestrian access and other improvements at the Beverly Depot commuter rail station. Created in 2017 by the Baker-Polito Administration, Housing Choice provides incentives and rewards to communities who earn the state's Housing Choice designation through efforts to support housing production.
2 Hardy Street is part of the City of Beverly's joint agreement with Salem and Peabody to work together prevent homelessness in the region by creating affordable housing for extremely low-income households. Harborlight has been a key participant in this effort, developing Hardy St. and the 26-unit Boston Street Crossing supportive housing development in Salem.
"Congratulations to everyone who played a part in 2 Hardy Street," said Clark Ziegler, MHP's executive director. "We're privileged to be able to work with Harborlight and cities and towns across the North Shore to expand the supply of decent affordable housing."
Private citizens fund energy efficiency
2 Hardy Street also received strong private support for solar and energy efficiency. Solar panels on the roof are projected to provide approximately 50 percent of the building's power; triple-glazed windows and closed-cell insulation has been used to reduce energy costs; and all units have air recovery units that continually circulate fresh air. Private citizens Don and Amy Bowen supported these efforts, with additional assistance from Tim Collins, Judson Reis and William Perry. The solar panels were installed by Resonant Energy, which has done similar work for other nonprofit MHP borrowers, including Worcester's Main South CDC, Lawrence Community Works, Madison Park Development Corp. and Somerville Community Corp.,
A strong regional nonprofit that has developed over 400 affordable apartments in 10 communities on the North Shore, Harborlight held its open house on Friday and Saturday, Sept. 18-19. Rather than holding it on Zoom, guests were directed to a web site where they could reserve 15-minute slots for predominantly self-guided tours for themselves or their "quaranteam." Over the two days, 35 individuals or groups walked through 2 Hardy St. and then gathered in the parking lot to watch a video in which funders and local leaders congratulated Harborlight.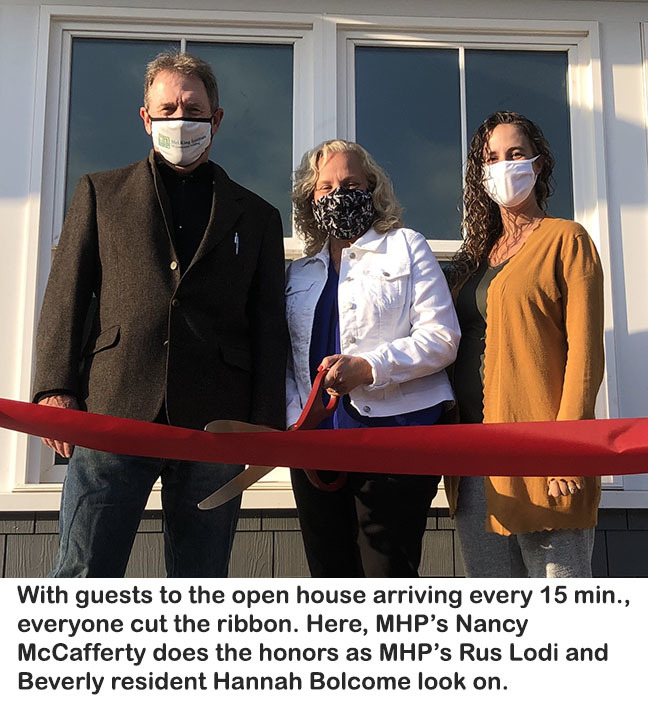 MHP Director of Business Development Nancy McCafferty made the trip to Beverly for the open house and received a guided tour from Kristin Carlson, Harborlight's director of real estate development. "It's really impressive how Harborlight has developed an attractive multifamily home that will help six working mothers and their children," said McCafferty. "2 Hardy Street fits right in with the neighborhood and its sustainable features will help its residents stay healthy and save money on utilities."
Strong demand for the apartments
Indicative of the need for affordable housing, over three dozen applications were received for the lottery for the six units. During the tour, Harborlight's Carlson recalled the reaction of one of the lottery winners. "She just screamed for joy," said Carlson "She was just so happy."
Carlson quickly added that there were dozens more who were disappointed. "All of us at Harborlight are delighted for our new residents but are also thinking of those families who were not chosen. All of it reaffirms our commitment to advance more housing initiatives," she said.
About MHP: MHP offers a variety of capital sources to provide permanent financing for affordable housing, including bank funds and lending programs offered by Fannie Mae, the Federal Housing Administration (FHA). Since 1990, MHP has provided over $1.4 billion for the financing of over 26,000 apartments and has helped over 21,000 low- and moderate-income households buy their first home through the SoftSecond and ONE Mortgage programs, resulting in over $3.7 billion in mortgage financing. MHP has provided support and technical assistance to over 300 communities. In 2017, MHP created the Center for Housing Data to support all its work and promote policies to allow more housing in response to demand. For more information, contact Nancy McCafferty at nmccafferty@mhp.net.