Posted on September 14, 2020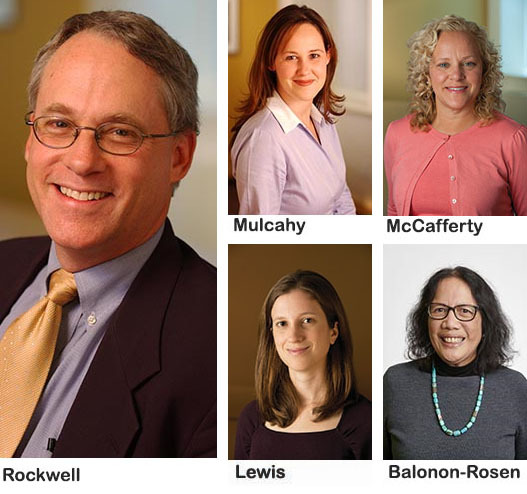 BOSTON --- The Massachusetts Housing Partnership (MHP) is announcing this week the retirement of its longtime lending director, the promotion of three senior executives and the hiring of an experienced affordable housing lender with an outstanding track record nationally and in Massachusetts.

Director of Lending David Rockwell is retiring, effective Sept. 18. Rockwell began his career at MHP in 1996 when its five-year-old lending operation had made 12 loans totaling less than $5 million. As he prepares to depart, MHP has made over $1.6 billion in loans and commitments for the financing of over 26,000 apartments.

"When David came to MHP, we had little experience but an ambition to change the way affordable housing was financed in Massachusetts," said Managing Director Mark Curtiss, who hired Rockwell. "Coming from the private sector, David embraced our vision, and his remarkable combination of intelligence, banking know-how, integrity, and passion for our mission allowed MHP's lending to thrive."
Prior to MHP, Rockwell worked in commercial real estate and community lending at three banks, and served as development director of the Dudley Street Neighborhood Initiative, which used eminent domain to purchase and redevelop vacant lots that had deteriorated due to disinvestment. This initiative resulted in 225 new affordable homes, a park, gardens and other amenities across more than 30 acres in Roxbury and North Dorchester.
Rockwell joined MHP in 1996, just as it was establishing itself as a multifamily lender. MHP's primary source of funds stems from a 1990 state law that requires banks that purchase other banks to set aside some of the acquired assets as a loan to MHP. Rockwell's arrival coincided with MHP's first large credit line - $65 million from Fleet Bank following its purchase of Bank of New England.
"It was my first week on the job and there was some doubt in the private lending community that we could get this money out the door," said Rockwell. "Well, we did and in the process, MHP became a respected, mission-driven multifamily lender. I'm so grateful to have been a part of this and to have worked with so many amazing and dedicated people at MHP and throughout the affordable housing community."
To address Rockwell's departure, MHP is promoting three staff members and adding an experienced lender:
Megan Mulcahy has been named Director of Lending. Mulcahy joined MHP in 2000 and has excelled in every role at MHP. As a loan officer, she gained extensive experience with non-profit and for-profit developers and all of MHP's capital sources – bank funds, FHA and Fannie Mae. Since 2015, she has been MHP's chief credit officer, responsible for overseeing the underwriting of all MHP loans and integrating new capital sources into MHP's menu of financing products.
Nancy McCafferty has been named Director of Business Development. She joined MHP in 2003, was promoted to senior loan officer in 2008 and senior relationship manager in 2015. She has significant experience underwriting and closing permanent financing utilizing taxable debt, tax-exempt bonds, and working capital credit lines, and with utilizing all MHP's capital sources, including private bank funds, Fannie Mae, FHA MAP and FHA Risk Share. Among these transactions are some of the largest and most complicated loans in MHP's history.
Anne Lewis has been named Director of Capital and Program Development and will head a new team that will develop capital sources and support the underwriting of MHP's multifamily lending team. She previously served as senior lending analyst, where she developed and refined many of MHP's financing models and data tools, as well as analyzed polices related to affordable housing and housing finance.
Alma Balonon-Rosen has rejoined MHP as Senior Relationship Manager. In this role, she will work with McCafferty to create a new team that will focus on marketing and new loan business. Previously, she worked for 20 years in a variety of senior roles at Enterprise Community Partners, a national affordable housing and community development non-profit. Her final role at Enterprise was director of relationship management for health and housing. Prior to Enterprise, she worked at Fleet Bank and then as a senior loan officer from 1993 to 1998 at MHP before joining Enterprise.
"I'm so excited to celebrate David's extraordinary impact on MHP. He has been an inspiration to so many of us, and his legacy will carry on for many years in the next generation of leaders that he helped to develop, said Curtiss. "Megan, Nancy, Anne and Alma all have tremendous experience and talent, and I can't wait to see the creative new ways they find to help our borrowers create and preserve affordable housing in Massachusetts."
About MHP: MHP offers a variety of capital sources to provide permanent financing for affordable rental housing, including bank funds and lending programs offered by Fannie Mae and the Federal Housing Administration (FHA). Since 1990, MHP has provided over $1.6 billion for the financing of over 275 projects and 26,000 apartments.
MHP has also helped over 21,000 low- and moderate-income households buy their first home through the SoftSecond and ONE Mortgage programs, resulting in over $3.7 billion in mortgage financing. MHP has provided support and technical assistance to over 300 communities. In 2017, MHP created the Center for Housing Data to support all its work and promote policies to allow more housing in response to demand.