Posted on May 27, 2020
BOSTON --- The Massachusetts Housing Partnership (MHP) has just closed on a $2 million permanent loan to help preserve the affordability of the Brook Avenue Apartments, a scattered site development of 36 three-bedroom townhouse apartments in Roxbury.

The MHP loan completes a $10.9 million acquisition and rehabilitation of the property by Wellesley-based EA Fish Development (EAFD) from the original developer, Veterans Benefits Clearinghouse Development Corp. of Boston. EAFD is owned by Managing Director Matt Mittelstadt and the project team was led by EAFD Director Dana Angelo.
"From our first evening meeting with residents, we knew immediately that they care deeply about the neighborhood and take tremendous pride in their homes," said Mittelstadt. "Many of the residents we met had lived there since Brook Ave. was built. Our team took great care to earn their trust and be worthy stewards of the homes they have lived in for years."
Symbol of revitalization
Brook Avenue is a historically significant collection of 17 town-house style homes spread out over six streets south of Dudley Square (now Nubian Square). The homes and a community building were constructed in 1997 and received a permanent loan from MHP at the time.
Brook Avenue Apartments was part of the Dudley Street Neighborhood Initiative (DSNI), a community-driven revitalization effort that used the power of eminent domain to purchase and redevelop vacant lots that had been ravaged by disinvestment, fires and illegal dumping. The work required gaining control of 1,300 abandoned parcels. Watch this 10-minute video to gain an appreciation of the scope of this effort and the residents who drove it, like Che Madyun, Nelson Merced, Adalalberto Teixeira, Jason Webb and Carline Dorcena, just to name a few.
All properties are part of DSNI-created community land trust in which property owners enter into a ground lease agreement with the trust. This initiative began in the 1980s and resulted in 225 new affordable homes, a park, gardens and other amenities across more than 30 acres in Roxbury and North Dorchester. The 99-year ground lease for Brook Avenue requires that 70 percent of the housing be affordable to low- and moderate-income, with 30 percent at market between 80 and 120 percent of area median income.
MHP's $2 million loan enabled Mittelstadt to secure low-cost financing with a 17-year term and 30-year amortization. This was done through what's known as a direct bond placement in which tax-exempt bonds issued by MassDevelopment were purchased by Citizens Bank for use during the construction period. This short-term bond was paid off, using the proceeds from a taxable MHP permanent loan, upon completion of rehabilitation and lease up of the apartments.
"Brook Avenue symbolizes the revitalization of Dudley Street neighborhood and we're proud to support Matt Mittlestadt and Peabody Properties' efforts to ensure that these affordable homes serve neighborhood residents for years to come," said Clark Ziegler, MHP's executive director.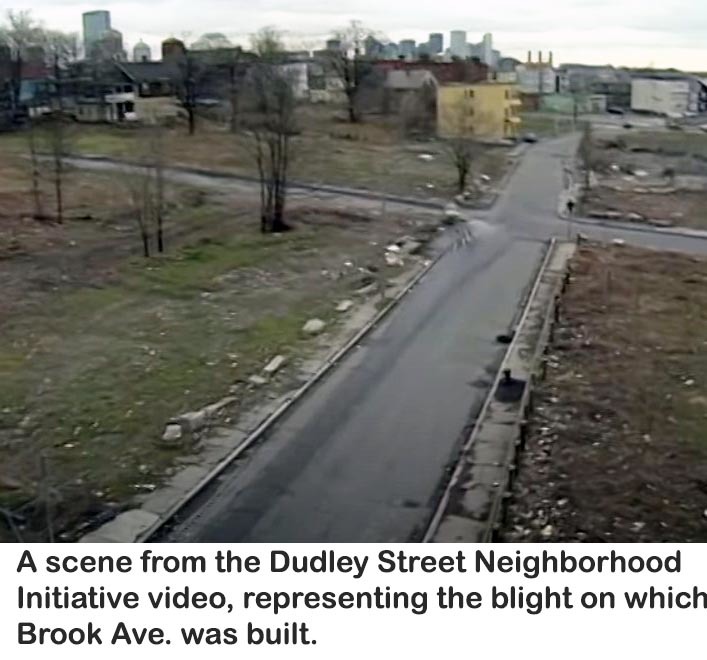 3rd MHP loan to EA Fish

Additional financing was provided though federal 4 percent low-income housing tax credits and state low-income housing tax credits. Funding was also provided by the state's Affordable Housing Trust Fund, the state's Housing Stabilization Fund and the City of Boston.
Work done during construction included replacement of major systems, windows and decks. The homes will be managed by Peabody Properties, an experienced property manager. MHP has made two previous loans to EAFD for 50 units of senior housing in Paxton and the Lofts at 30 Pine, a 55-unit apartment building in a former furniture factory in Gardner.
"EAFD is thrilled to have MHP on board once again as our primary financial partner," said Mittelstadt. "Its collaborative approach to projects is perfectly suited to our vision for Brook Avenue."
For more information about this loan and MHP's financing options, contact MHP Senior Loan Officer Amanda Roe at aroe@mhp.net.
About MHP: MHP offers a variety of capital sources to provide permanent financing for affordable housing, including bank funds and lending programs offered by Fannie Mae, the Federal Housing Administration (FHA). Since 1990, MHP has provided over $1.4 billion for the financing of over 26,000 apartments and has helped over 21,000 low- and moderate-income households buy their first home through the SoftSecond and ONE Mortgage programs, resulting in over $3.7 billion in mortgage financing. MHP has provided support and technical assistance to over 300 communities. In 2017, MHP created the Center for Housing Data to support all its work and promote policies to allow more housing in response to demand.