Posted on November 13, 2020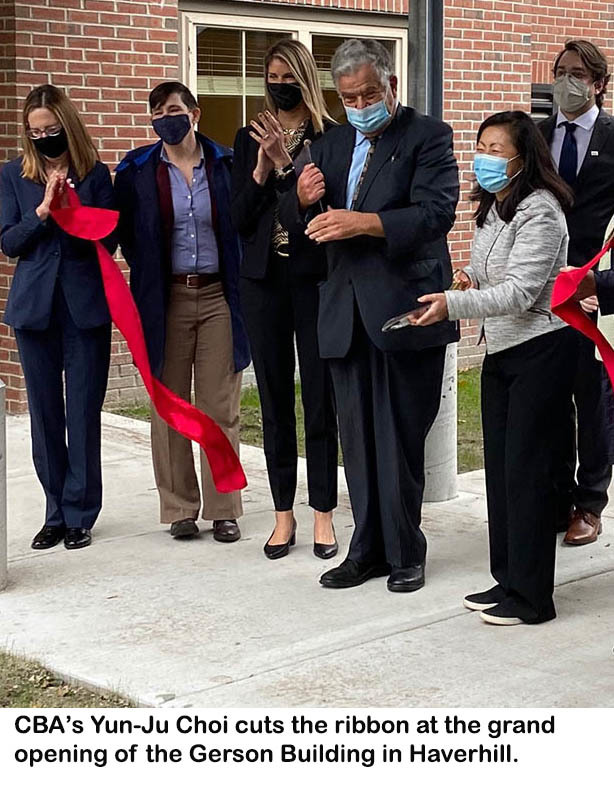 HAVERHILL – Not even masks could hide the expressions of satisfaction and pride yesterday as local leaders and funders gathered to celebrate the grand opening of a 44-unit apartment building for veterans in the center of Haverhill.
The new housing will feature 8 one-, 31 two- and 5 three-bedroom apartments, all affordable at or below 60 percent of area median income. Seventeen of the units will be supported with rental assistance vouchers, meaning residents will pay no more than 30 percent of their income on housing.
"It's fitting that we're celebrating the grand opening the day after Veterans Day and that it reflects the city's goal that no veterans should be homeless," said Haverhill Mayor James Fiorentini at opening ceremonies on Thursday, Nov. 12.
First for CBA in Haverhill
Co-developed by the Veterans Northeast Outreach Center (VNEOC) and the Lowell-based nonprofit, Coalition for a Better Acre (CBA), the $18.5 million project was built on eight downtown parcels, including the former Gerson Furniture Building. This is CBA's first development in Haverhill. VNEOC has developed several properties in Haverhill, including turning the former St. Rita's Church into a service center for veterans.
The Gerson Building was financed primarily with federal and state low-income housing tax credits awarded by the state Department of Housing and Community Development (DHCD). Additional funding was provided by the state, the North Shore HOME Consortium, the City of Haverhill and NeighborWorks America. Capital One provided construction financing. The city also provided the project with a Ch. 40B comprehensive permit, with a special condition that up to 70 percent of the units house veterans and their families.
The Massachusetts Housing Partnership (MHP) has provided a $3 million, 40-year, fixed-rate, long-term loan commitment from the Federal Housing Administration's Treasury Risk-Share Program. MHP's loan continues its tradition of providing more long-term financing for affordable housing financed with tax credits than any other lender in the state. "We're delighted to be able to provide this low-cost financing to ensure that this housing will be affordable to veterans and families for years to come," said Nancy McCafferty, director of business development for MHP.
MHP no stranger to CBA & Haverhill
MHP has now used its capital sources to finance six CBA projects, totaling 403 units and over $21 million in financing. Previous loans (all in Lowell) include Triangle Rental (1996), Liberty Square (2003), North Canal (2005), Merrimack St. (2006), and Unity Place (2010). MHP is also no stranger to Haverhill, having now provided over $20 million in permanent financing to support 367 apartments. Noteworthy MHP loans in Haverhill include Harbor Place, Tenney Place and the Hayes Building.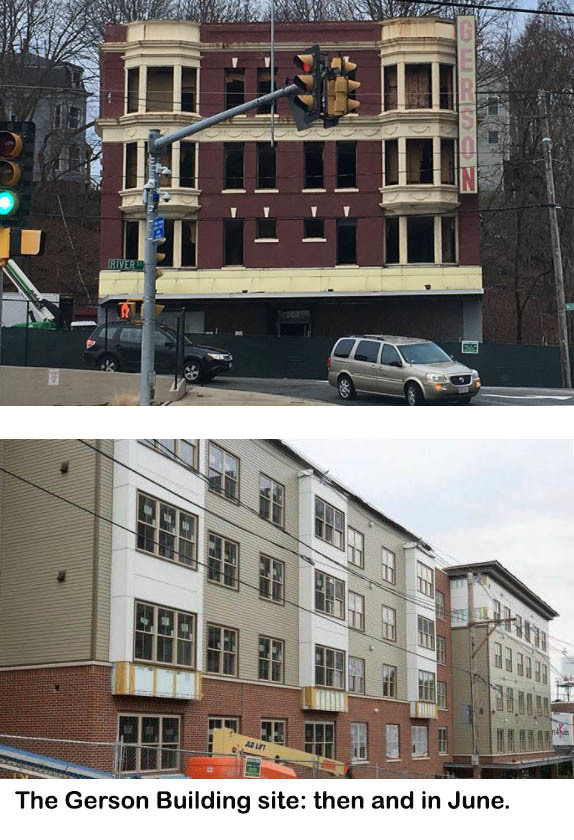 The grand opening of the Gerson Building gave local leaders a chance to salute veterans and reaffirm their efforts to support them now that they are home.
"Today, as we come together to celebrate the selfless act of our veterans, I'm so proud of what this community has done to help our veterans," said U.S. Rep. Lori Trahan. "Even one homeless vet is too many and I applaud the commitment of the Haverhill City Council and Mayor Fiorentini to cut that to zero."
State. Rep. Andrew Vargas announced that a $50,000 state grant has been secured for the Veterans Northeast Outreach Center and then pivoted to praising the partnership between VNEOC and Lowell-based CBA. "We are extremely fortunate. We need be thinking of regional housing solutions to solve our affordable housing crisis."
CBA Executive Director Yun-Ju Choi introduced the last speaker, VNEOC Executive Director Ed Mitchell, who explained what this housing means for veterans. "We all know a home is where we can weather life's storms and where family memories are made," said. "Our staff will be here to provide services so residents can meet life's challenges."
For more information about this project and MHP's financing options for multifamily affordable rental housing, contact Director of Business Development Nancy McCafferty at nmccafferty@mhp.net or Alma Balanon-Rosen at AlmaBR@mhp.net.
About MHP: MHP offers a variety of capital sources to provide permanent financing for affordable housing, including bank funds and lending programs offered by Fannie Mae, the Federal Housing Administration (FHA). Since 1990, MHP has provided over $1.4 billion for the financing of over 26,000 apartments and has helped over 21,000 low- and moderate-income households buy their first home through the SoftSecond and ONE Mortgage programs, resulting in over $3.7 billion in mortgage financing. MHP has provided support and technical assistance to over 300 communities. In 2017, MHP created the Center for Housing Data to support all its work and promote policies to allow more housing in response to demand. For more information about MHP, contact Director of Public Affairs Rus Lodi at rlodi@mhp.net.