Posted on July 28, 2020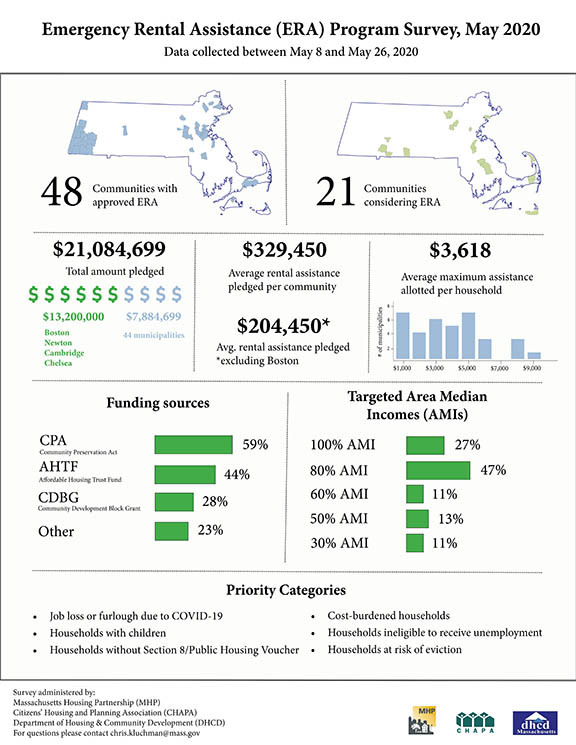 BOSTON --- To keep track of resources available to residents impacted by COVID-19, the Massachusetts Housing Partnership (MHP) is seeking information from municipalities who have pledged local funds for emergency rental assistance (ERA) programs.
The information will be added to a statewide survey report that found that 48 communities have earmarked over $20 million in local funds for housing assistance since the state of emergency was declared in March. The survey report and data base - conducted by MHP, the state and the Citizens' Housing and Planning Association - was done in May and released on June 25.
MHP is hosting the survey report on its Housing Toolbox web site. MHP will update it as more municipalities approve and start running programs. The survey is intended to not only track dollars pledged and communities offering ERA, but also what practices are being used to administer them.
Town officials and volunteers that are monitoring ERA Programs should email MHP the following information:
What funds are you or will you be using?
Who is or will be administering the program?
What is the target are median income or population?
What is the maximum benefit per household?
How long will the program run?
Are there any lessons learned that could be helpful to other communities?
The survey is part of MHP's ongoing effort to work with communities to help people who may be in danger of losing their home or apartment due to COVID-19. Since the state of emergency, MHP has created guidelines for communities using CPA funds for ERA, organized a webinar with CHAPA on ERA programs, and helped create a comprehensive Q&A on how to use local funds to run an effective, short-term emergency rental assistance program.
For more information, contact MHP's Katie Bosse at kbosse@mhp.net.