Posted on November 10, 2020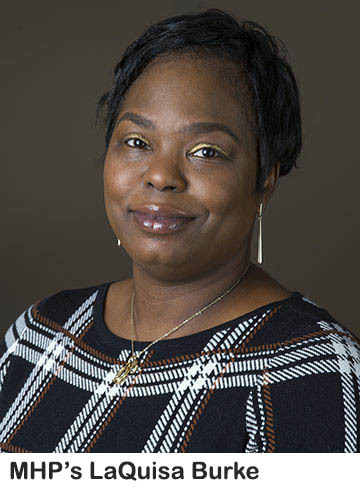 BOSTON --- A member of MHP's homeownership team will be honored at the Massachusetts Conference for Women for community work in her Dorchester neighborhood.
Program Associate LaQuisa Burke was one of three nominees chosen from 100 entries to participate in "Storytellers: A Celebration of Women's Stories of Hope and Inspiration," one of the featured events at the conference on Thursday, Dec. 10.
Burke is the driving force behind the West of Washington Coalition (WOW), a group she founded in 2016 to improve the lives of residents in her neighborhood - a cluster of streets west of Washington Street near Codman Square.
"We wanted to give our neighborhood a voice," said Burke. "And we've tried to do it in a way so that everyone feels included."
Since starting WOW, Burke has initiated and participated in a myriad of activities, including regular meetings, snow shoveling for the elderly, murals for the local school, "Love Your Block" neighborhood cleanups, new resident welcome packets, and an annual barbecue featuring local artists and performers.
In 2017, WOW was recognized as the Community Group of the Year by the City of Boston. In 2017, WOW was one of five neighborhoods selected to participate in the city's Slow Streets Initiative, which promotes neighborhood safety through measures that slow traffic. In 2018, WOW used a $400,000 grant from the City of Boston to purchase a vacant lot so it could build a park. In 2020, WOW received another $800,000 from the city to build it.
"She is devoted to her community in a way that is rarely recognized and never paid for," said Lauren Wojtkun, a neighborhood resident. "She has spent more hours on WOW than anyone can count. She is a model community organizer."
Comprised primarily of Black and Brown residents from her neighborhood, WOW redirected its activities in 2020 to helping the community deal with the impacts of COVID-19. Under Burke's leadership and personal commitment, WOW raised money to purchase food and supplies for families, acquired and distributed masks to residents, and organized a parade to honor the many essential workers who lived or worked in the neighborhood.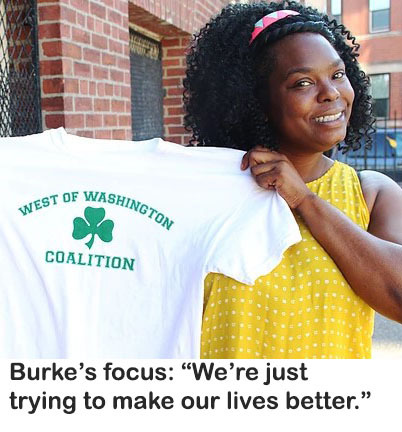 Her work continued to adapt to current events during the spring and summer as she organized a peace walk to recognize the victims of gun violence. She shifted regular WOW meetings to Zoom and urged residents to fill out census forms. "We're just trying to make our lives better," Burke said.
A lifelong resident of Boston, Burke joined MHP in 2017 and is responsible for supporting a wide range of operational aspects for ONE Mortgage, the state's most affordable program for low- and moderate-income households and people of color. These responsibilities include working with lenders, supporting ONE's post-purchase counseling program, supervising the collection and archiving of loan documents and working with owners when they refinance their loans.
"LaQuisa's ability to make meaningful personal connections and her dedication to helping those in need is why she is so successful helping first-time homebuyers and the people in her neighborhood," said Elliot Schmiedl, MHP's homeownership director. "Her community organizing background helps our team think creatively about ways to reach underserved households and borrowers of color statewide."