Posted on November 26, 2019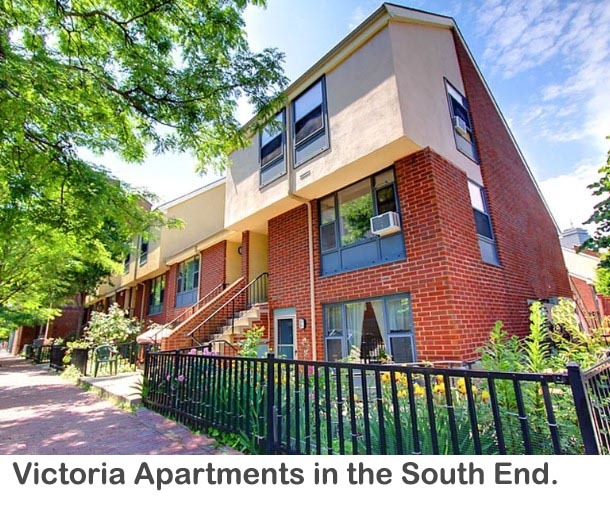 BOSTON --- Using its ability to offer low-cost fixed-rate, long-term financing, the Massachusetts Housing Partnership (MHP) has closed on a $50 million loan to Inquilinos Boricuas en Acción (IBA) to preserve the affordability of Victoria Apartments.
Built in 1982 and located in Boston's expensive South End neighborhood, Victoria Apartments features 190 affordable homes for families in 15 attractive townhouse style buildings. It is unique in that it offers a variety of bedroom choices – 11 one-bedroom, 119 two-bedroom, 34 three-bedroom, 23 four-bedroom, two five-bedroom and one six-bedroom apartment. All are affordable and supported by a new long-term Section 8 contract, thus ensuring that residents will not be displaced.
MHP's 40-year permanent financing extends the existing rental restrictions, ensuring affordability of the apartments for years to come. MHP has now made 213 loans in the City of Boston for the financing of over 7,700 apartments, over 6,000 of them affordable and 70 percent of those loans made to non-profits like IBA.
"Working with neighborhood nonprofits to keep Boston affordable has long been a big part of MHP's core mission," said Clark Ziegler, MHP's executive director. "We're excited to be able to help IBA continue its legacy of providing deeply affordable housing for South End residents."

MHP financed Victoria Apartments using the Federal Housing Administration's Risk Share Program. The financing allows IBA to make upgrades to the homes, extend the affordability and use its built-up equity to support other IBA operations and new development initiatives that will further strengthen the neighborhood. This includes the redevelopment of the Villa Victoria Center of the Arts and the revitalization of the 146-unit West Newton/Rutland Apartments and its transfer of ownership from the Boston Housing Authority to IBA.
"We are thrilled to partner with MHP in the financing of Victoria Apartments. MHP's terms and flexible financing solutions were key in making the process, from origination to closing, smooth, seamless and efficient. The team at MHP is friendly, knowledgeable and worked with us to achieve our outcomes," said Vanessa Calderón-Rosado, CEO of IBA.

IBA is one of the most storied nonprofits in Boston and one of the first versions of a community development corporation. It was created in the 1960s by the South End community in response to urban renewal plans by the city to tear down many of the historic brownstone apartment buildings that were in decay following a middle class exodus to the suburbs.

Residents in the community – primarily Puerto Rican – organized and worked with the city to preserve the neighborhood and create new affordable housing, with IBA designated as the developer. All told, IBA created 435 affordable homes and the effort – known collectively as Villa Victoria (Victory Village) – is a monument to how civil rights and organizing can create community-based affordable housing, education and arts programs.
About MHP: MHP works with communities to create innovative policy and financing solutions that provide affordable homes and better lives for the people of Massachusetts. Since 1990, MHP has provided support and technical assistance to over 300 communities, made over $1.4 billion in loans and commitments for the financing of over 26,000 apartments and has helped over 21,000 buy their first home through its ONE Mortgage Program.
For more information about this loan and MHP's financing options, contact Nancy McCafferty at 857-317-8556 or nmccafferty@mhp.net, or check out our interest rates, which are updated weekly. Also check out our new Green & Healthy Housing Programs.