Posted on October 4, 2017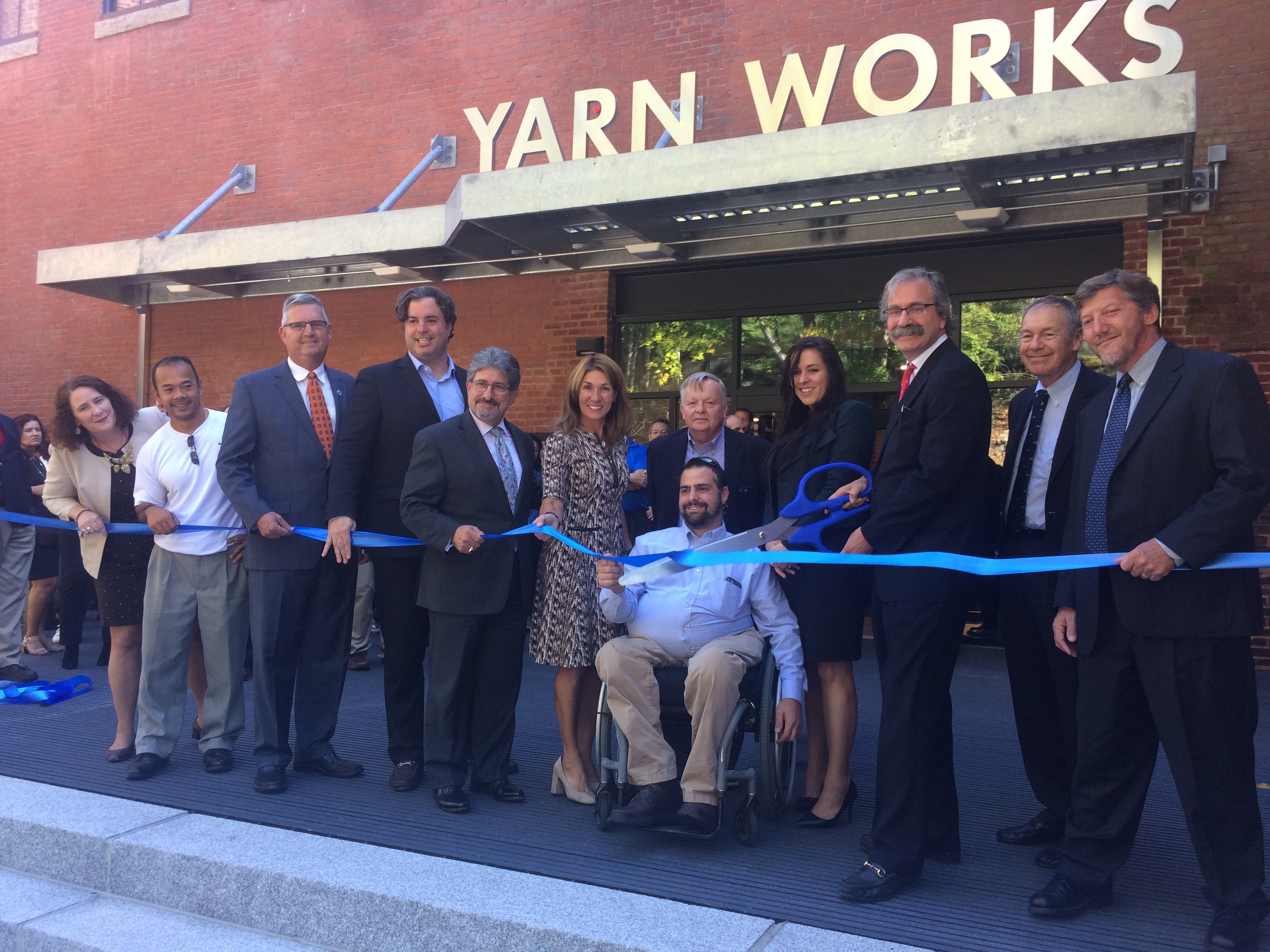 FITCHBURG --- The power of local support, private and public financing, and a developer with an outstanding record of breathing new life into old mills was on full display recently as state and local leaders gathered for the grand opening of Fitchburg Yarn Works, a 96-unit mixed-income apartment building along the Nashua River near downtown Fitchburg.
"This shows the power of what communities can do," said Lt. Gov. Karyn Polito at grand opening ceremonies on Sept. 28. "They've helped transform a 112-year-old mill into 96 beautiful homes. They are showing other gateway cities that what may seem impossible can become reality."
The City of Fitchburg contributed $250,000 in HOME funds and something else every project needs – overlay zoning to allow for the former Fitchburg Yarn Company mill to be turned into an asset for the community again.
"Many people used to work here and now many people are going to live here and are going to be spending their hard-earned dollars supporting local businesses downtown," said Jay Ash, the Baker Administration's housing and economic development chief. "The Baker Administration would love to support more spectacular projects like this."
Developed by WinnCompanies, the $24.2 million Fitchburg Yarn development features 57 market-rate, 29 affordable apartments for households at or below 60 percent of area median income and 10 apartments for households with incomes at or below 30 percent AMI. At the grand opening, Winn Senior Project Director LeAnn Hanfield said 98 percent of the apartments were already leased. The building is located less than a mile from the Fitchburg commuter rail station and Fitchburg State College.
"Yarn Works is meeting an important need for high-quality apartment living in downtown Fitchburg," Mayor Stephen DiNatale said. "There is a reason these units leased up so quickly: It speaks to a growing demand for this style of living, and to a rapidly improving housing market in the city. WinnCompanies has been a great partner, and we hope to see many such projects in the future."
WinnDevelopment is no stranger to reviving mills. To date, the company has completed completed 36 adaptive-reuse projects in five states and the District of Columbia, creating more than 3,600 new mixed-income units with a collective value of over $500 million.
Particular challenges to this project included turning the old boiler room with its 25-foot ceiling and 14-foot windows into an attractive community room. Another challenge was replacing the soot-covered, collapsing trusses with steel beams. The apartments feature ceilings that are 12 feet high and nine-foot windows. The building sits on seven acres and is 190,000 square feet.
"Yarn Works is a once-proud historic property now reborn as a modern community asset that not only provides badly needed housing but also direct and indirect economic impacts for the local community," said Larry Curtis, president and managing partner of WinnDevelopment. "We're pleased to have been part of this public–private effort to support new housing and economic growth for Fitchburg. The city has been a great partner in this effort."
Fitchburg Yarn was financed primarily through federal and state low-income housing tax credits awarded by the state Department of Housing and Community Development. Additional funding came through an historic tax credit award from the Massachusetts Historical Commission. Additional public funding was provided by the Community Economic Development Assistance Corp. and MassHousing. The state also provided a $3 million MassWorks grant to improve infrastructure in the neighborhood, with a special focus on streets and curbing on the streets leading to and from the mill.
Private financing is being provided by Bank of America, Boston Financial Investment Management, Boston Community Capital and MHP. MHP's $2.8 million long-term loan comes from its bank-funded loan pool. MHP has now provided WinnCompanies with over $65 million in loans for the financing of over 1,400 apartments in communities throughout the state, including Andover, Boston, Chicopee, Everett, Fitchburg, Lawrence, Ludlow, Lowell, Springfield, Webster and Westfield.
"Congratulations to the City of Fitchburg and WinnCompanies for working to turn this historic mill into mixed-income housing that's near downtown and the commuter rail," said Clark Ziegler, executive director of the Massachusetts Housing Partnership. "The city deserves credit not just for its financial support but also for creating a mill overlay district that paves the way for this type of mill redevelopment. WinnCompanies should be saluted for their ability for ability to turn abandoned mills into attractive homes that will serve working people and families for years to come. Winn has the extraordinary ability to make the complicated, challenging work of mill redevelopment look simple."
For more information about this development and MHP's financing options, contact David Rockwell at drockwell@mhp.net or Nancy McCafferty at nmccafferty@mhp.net.