Posted on August 11, 2016
WESTFORD --- A story with roots stretching back to 2001 when MHP's Rita Farrell traveled to Westford to learn about the town's plans to turn part of a sand pit into housing reached another milestone earlier this summer when local leaders gathered to celebrate the completion of Stony Brook, Phase II.
Developed by Common Ground Development Corp. (CGDC), Stony Brook II features 36 affordable apartments for families. The new housing complements the 15 affordable apartments developed by CGDC in 2006 and completes the town's vision for this 166-acre site, which includes athletic fields and the Stony Brook Middle School, which was built in 2003. Common Ground is the development subsidiary of Lowell-based Community Team Work Inc. (CTI).

"It takes vision to build a village like this and we're grateful for all the support we've received from the town and everyone else," said Karen Frederick, executive director of CTI, at the grand opening on June 24. "What we try to do is provide services and housing for people who need a chance to succeed in life. This housing will give families that chance and allow their children to attend the Westford schools, which are so close and are such special places of opportunity."

Stony Brook II features five one-bedroom, 24 two-bedroom and seven three-bedroom apartments. Over 300 applied for the new housing.

"This housing is good for Westford," said Kelly Ross, chair of the board of selectmen. "Like many towns, we struggle to have diversity in our housing stock and this village is a fantastic contribution to the town."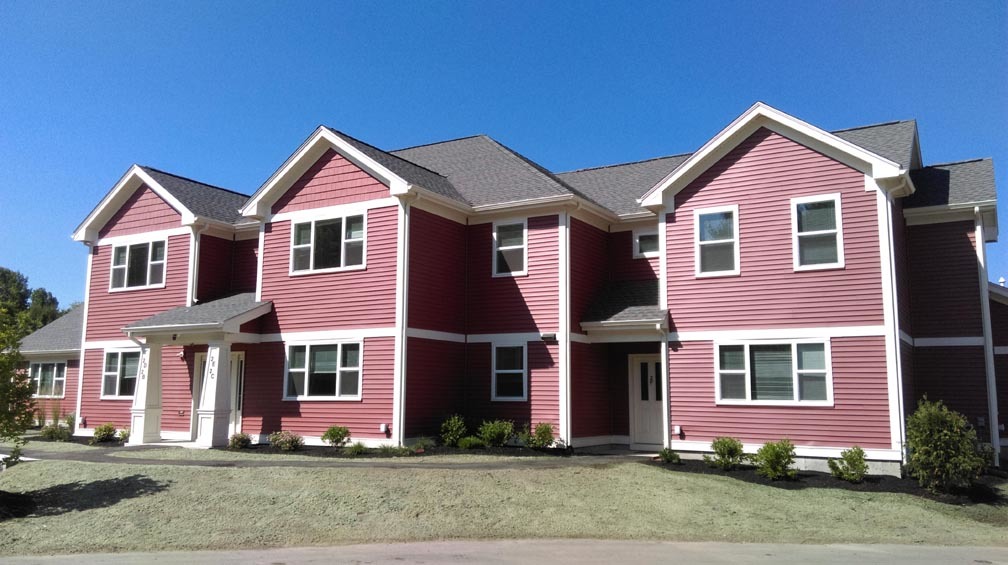 The $9.3 million development was financed primarily with federal Low Income Housing Tax Credits awarded by the state Department of Housing and Community Development (DHCD). DHCD also provided federal HOME funds and $1 million from the state's Affordable Housing Trust Fund, which is administered by MassHousing. Citizens Bank provided construction financing and was the tax credit investor.

"It's impressive to see this campus you worked so hard to create," said Kate Racer, associate director at DHCD. "Westford is a great community to work with and has set an example on how to use land and local funds to help develop affordable housing."

Stony Brook is another example of Westford's ongoing commitment to promoting the production of housing at all price ranges. When the town first identified the site for a school, athletic fields, a sewerage treatment facility and housing, it created special zoning to allow multifamily and conveyed seven acres to the housing authority for development.
In the fall of 2001, Rita Farrell of MHP's community assistance team traveled to meet with Westford Housing Authority Executive Director Chris Pude and see the site. At the time, it was a classic teenage wasteland featuring scrub brush, sand hills, beer cans, old tires and dirt bike tracks. Pude pointed at some sand hills where the school would be built, another area where there would be athletic fields and to another spot where housing could be built.
For the next few years, Farrell and MHP's community assistance team worked with the town and housing authority to position the land for housing. The housing authority ultimately issued a Request for Proposal and leased the land to CGDC for development. CGDC then developed 15 affordable units through the Suburban Rental Pilot Program, offered by MHP and the state to promote small-scale affordable housing production. This program also produced small-scale developments of under 20 units in Acton, Chelmsford, Groton, Hopkinton, Sudbury and Truro.
Westford contributed $200,000 in Community Preservation Act funds to help support site preparation for Phase 1 and provided $400,000 in CPA and local housing trust funds for Phase II. Some of the funds were needed to bring in dirt that had been displaced to create the school site, an irony not lost on Pude.

"These types of projects don't happen without commitment," said Pude, a strong town advocate for housing who has retired from the housing authority but remains a member of the affordable housing committee. "We couldn't have done this without the town providing CPA funds. For a gravel pit, this site needed a lot of dirt and I can assure you it takes a lot of commitment at the local level to beg people for dirt to fill a sand pit."

MHP supported Phase I with $1.3 million in first-mortgage financing and $750,000 in zero-percent interest second mortgage financing. For Phase II, MHP has provided a $2 million long-term loan commitment.

"It's great to see how the town used land, zoning and local funds to create a community," said David Rockwell, MHP's director of lending. "It's also great to be working with Community Teamwork and Common Ground. When you're working with experienced people like Steve Joncas and Bill Lipchitz and their colleagues, you know you'll be part of something that will enhance the community."

For more information about this development and MHP's community assistance and lending programs, email MHP's Rus Lodi at rlodi@mhp.net or call 857-317-8523.