MHP supported this effort with sustained technical assistance, long-term financing
Posted on November 9, 2015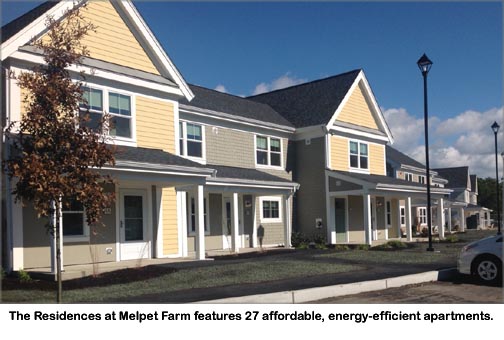 DENNIS --- The Town of Dennis' longstanding wish to turn Melpet Farm into housing came to fruition last month as funders and town leaders gathered to celebrate the grand opening of 27 affordable, energy-efficient apartments.
"For a long time, we couldn't get this development going," said Dennis Board of Selecctmen Chair Paul McCormick during grand opening ceremonies on Oct. 16. "But we saw it through because the the town truly believes in affordable housing."
Melpet Farm is also an example of the how MHP often supports affordable housing developments not just with financing, but with support and technical assistance that helps keep local affordable housing initiatives on track.
Melpet Farm was co-developed by the Housing Assistance Corporation of Cape Cod and Boston-based Preservation of Affordable Housing (POAH). It features six one-bedroom, 17 two-bedroom and four three-bedroom apartments all affordable to families below 60 percent of area median income. Seven apartments will be set aside for families or individuals facing homelessness.
The development features a free-standing community building and eight Cape-style buildings which are among the most energy efficient on the Cape. "These buildings are incredibily energy efficient," said Aaron Gornstein, POAH's president. "They are 70 percent more air tight and 57 percent more code compliant than buildings of the same size."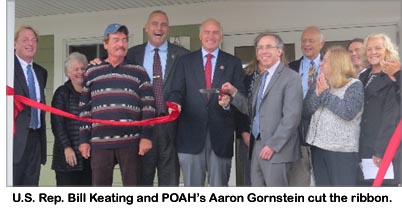 Melpet Farm is part of a larger site that has been preserved as open space. The Rt. 134 site is remembered by longtime Cape Codders as a place to ride horses and where Rex Trailer did filming for his Boomtown television show for children from 1956-74. Many speakers remembered the old days and one speaker - Congressman William Keating - said housing like this could perpetuate the name "boomtown" for years to come.
"We have a great need for affordable housing for our workers so our economy can continue to grow," said Keating. "If we do more of this, then we'll have a lot of "boomtowns" on the Cape."
Melpet Farm was financed primarily with federal Low Income Housing Tax Credits awarded by the state Department of Housing and Community Development (DHCD). DHCD provided additional funding through federal HOME funds, its Housing Innovation Fund and the Affordable Housing Trust Fund, which is administered by MassHousing. Bank of America provided the construction loan and is the tax credit investor. Locally, Barnstable County provided HOME Funds and the Town of Dennis provided $470,000 in Community Preservation Act funds in addition to the 99-year ground lease.
"The way people do affordable housing down here is fantastic," said Kate Racer, associate director at DHCD. "I wish all towns in the Commonwealth would step up the way the town of Dennis does."
MHP provides early technical assistance, long-term financing
The town's efforts began in 2001 when it bought the farm for $2 million. In 2002, it gifted 6.4 acres to the housing authority and authorized it to renovate four buildings on the site. The housing authority proved not up to the task and the development stalled as the town tried to figure out if it could proceed or raze the buildings and pursue a new development.
During this time, MHP's Community Assistance team provided key technical assistance to the town. It helped the town assess whether to continue with the original vision, helped the town untangle itself from the old plan when it decided to pursue a new plan, and helped the town prepare a Request for Proposal seeking new developers for the site. In 2010, development rights were awarded to HAC, which then partnered with POAH.
"MHP came in and broke the dam open to get this thing going again," said McCormick, who was a first-term selectman in 2002 when the first effort stalled. "They came in and built back the trust the town needed to move this forward again and get us to an outcome we wanted all along."
In addition to its sustained technical assistance, MHP's Rental Financing team is providing a $1 million long-term loan from its bank-funded loan pool."
"MHP is proud to have provided technical assistance and long-term financing so that the town and the developers could provide housing that the Cape so dearly needs," said Nancy McCafferty, MHP's Senior Relationship Manager for Lending. "But we know that we wouldn't be able to do what we do if we didn't have towns like Dennis that understand that affordable housing is important and will do whatever it takes to get it done. Congratulations to the town for having the vision to see this through."
For more information about this development and MHP's community assistance and rental financing options, contact Nancy McCafferty at nmccafferty@mhp.net.