Posted on December 4, 2015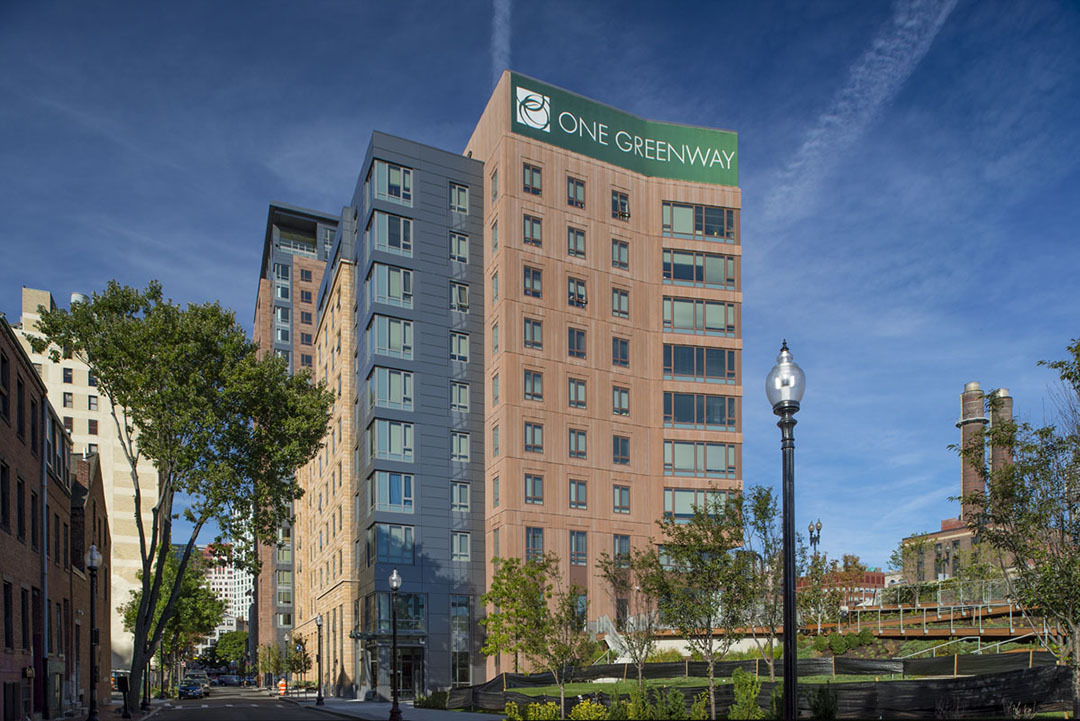 BOSTON --- A neighborhood that was once bulldozed to make way for a new highway was given new life this November as local residents gathered with city, state and private funders to celebrate the grand opening of 66 Hudson at One Greenway, a 363-unit development at the east end of Chinatown.
"It's gratifying being here today because I never dreamed we would develop housing on the spot where I was born," said Caroline Chang, who lived in the neighborhood in the 1960s when it was taken by eminent domain to make way for highway. "The expressway broke up our village. Now, this building will provide an opportunity for Chinatown residents to live next door to each other and support each other again."

66 Hudson at One Greenway was developed by the New Boston Fund and the Asian Comunity Development Corporation (ACDC). The 21-story residential apartment building features 217 market-rate apartments. The attached 11-story building features 95 affordable apartments. The next phase will involve the development of an adjacent site into 51 affordable condominiums. Construction for this phase is expected at the end of 2015.
"This not only represents a rebirth for this stretch of Hudson Street, but it also means that immigrants can afford to live here again," said Angie Liou, ACDC's executive director, at grand opening cermonies on Nov. 17, 2015.
'The expressway became our backyard'
Liou was referring to past and present pressures on Chinatown. In the 1960s, Hudson Street was a close-knit community of Chinese, Syrian and Lebanese immigrants. The neighborhood was broken up when the rowhouses and storefronts on the east side of the street were leveled to make way for the westbound ramp of the Massachusetts Turnpike Extension. Homeowners were offered a few thousand dollars for their homes and given 60 days to make up their minds. "The expressway took the soul out of Chinatown," said one resident about the land-taking on Hudson Street.
"The expressway became our backyard," said Caroline Chang, who helped start ACDC in response to the displacement. "My family was stunned and frightened to get the notice that we had to move. There are so many Hudson Street residents from those days who still have their heart in Chinatown, even though they have moved away."
Chang and other residents of the old neighborhood weren't just sentimental. She and others in the neighborhood worked continuously through their adult lives to keep the neighborhood strong. In 1987, Chang and fellow Hudson Street friends like Neil Chin, Tunney Lee and others started ACDC.
Paul Lee recalled why the Hudson Street friends started the non-profit. "I think in looking back at what happened to Hudson Street, we all felt a sense of helplessness. We didn't want it to happen again."
Their efforts weren't limited to ACDC. For instance, Chang helped to establish a number of other local nonprofits, including the Asian American Civic Association, the Chinese Historical Society of New England and the Asian American Lawyers Association of Massachusetts.
(Note: Chang passed away in April 2018. Of her death, Liou wrote in the recent ACDC newsletter: "She dedicated her life to serving those in need and was a strong supporter of immigrant rights and women's issues. Caroline's spirit of loving one's community and helping others will keep inspiring all of us as we continue the work she and her fellow community leaders and activists started decades ago." You can read the Boston Globe tribute to Chang here. A memorial service will be held at 11 a.m. July 14 in the Josiah Quincy School in Boston).
Rising home prices latest threat
The Big Dig highway project and the depression of the Central Artery in 2004 made it possible for new housing to be built on the state's so-called Parcel 24, where Caroline Chang and so many others grew up. Nevertheless, Chinatown residents face a different threat today: a financial bulldozer of rising real estate prices that is pushing longtime residents and businesses out of the neighborhood, according to a recent NBC News story on Chinatown's declining Asian population.
66 Hudson is an effort to stop this financial displacement as the ACDC portion is deeply affordable, with 31 apartments affordable at or below 30 percent of area median income (AMI) and 64 apatments at or below 60 percent AMI. The bedroom mix includes units for famlies as there are 29 one-, 49 two- and 17 three-bedroom units. The 51 affordable condominums to be built next represent another effort by ACDC to create housing for longtime residents of the neighborhood.
"I commend ACDC for their leadership," said Mayor Marty Walsh. "They had a vision to turn this back into a residential community. On behalf of the city, I thank all former and current Hudson Street residents for your hard work."
The affordable rental portion of 66 Hudson was financed primarily with federal and state housing tax credits. Other financing support came from the state Department of Housing and Community Development, the City of Boston, PNC Bank, People's United Bank, Boston Private Bank, MassDevelopment and RBC Capital Markets.
The Massachusetts Housing Partnership (MHP) is using its bank-funded loan pool to provide $4.35 million in long-term fixed-rate permanent financing to help ACDC in its mission to create more affordable housing for the neighborhood.
"Boston is a great city that is enjoying a population and building boom but neighborhoods like Chinatown can't retain their character and provide opportunities for a new generation of residents when housing prices are going through the roof," said Clark Ziegler, MHP's executive director. "66 Hudson represents a concerted effort by the neighborhood, the city and the state to preserve part of what makes Chinatown special and MHP is proud to be a part of it."
For more information about this development and MHP's financing options, contact Senior Relationship Manager Nancy McCafferty at nmccafferty@mhp.net.