Posted on February 10, 2017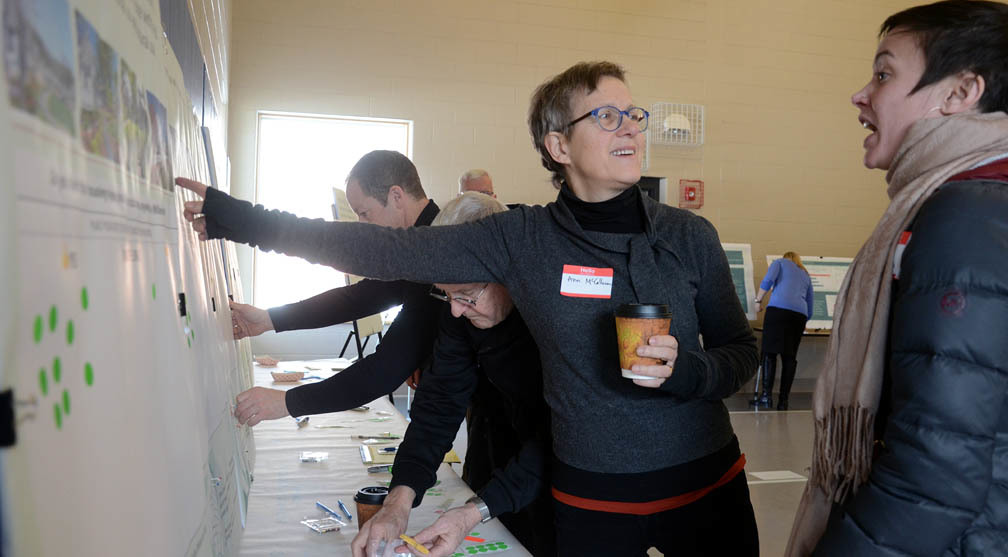 WILLIAMSTOWN --- As part of an ongoing effort to support the Town of Williamstown's efforts to gauge public support for zoning bylaw changes, MHP hosted a community open house earlier this month to talk with residents about the town's housing needs, especially in the downtown area around Williams College.
Approximately 50 residents attended the open house, which was held at the town's Youth Center. Most of the attendees were Williamstown residents. A handful either worked in town or had children in the schools.

"The goal of the session was to provide information and education about how zoning works and how it affects neighborhoods," said Susan Connelly, MHP's director of community assistance. "We also wanted to hear directly from residents about how they viewed the neighborhood and what they would like to see in the future. "

Held on Saturday, Feb. 4, the open house is part of a larger initiative, called "Williamstown Future Neighborhoods." Funded with a grant from MHP, the goal is to gather information from as many residents as possible and build a coalition of support to address the town's housing needs through zoning updates.

INTERACTIVE STATIONS
The open house was formatted with interactive stations, where participants could highlight landmarks on a map, give their opinion on different housing types, and speak with MHP representatives and town staff about zoning. For parents who brought children, there was art station with coloring utensils. Participants were given an event passbook, and if they visited every station, they would receive a pin and a coupon to a local yogurt shop. Food and drinks were sponsored by local restaurants.

The interactive stations featured several maps created by town staff which highlighted characteristics of the neighborhood, including showing how little multi-family housing exists and how the majority of the housing in the neighborhood was created prior to 1970, before the town switched its zoning to single-family on larger lots. Many attendees commented on how much they learned from these visuals and how it changed their perceptions of this neighborhood.
Participants at the event included MHP's Susan Connelly and Carsten Snow, and consultant Jennifer Goldson. Partipants from the town included Town Manager Jason Hoch, Community Development Director Andrew Groff and Planning Board Chair Amy C. Jeschawitz. MHP is also utilizing the services of coUranize, an online community engagement platform. To follow the Williamstown effort, go here.
Many attendants lived in the focus neighborhood, and commented on what they saw as the inflexibility of current zoning codes. They were open to smaller and alternative ways to create new lower-priced housing, such as accessory dwelling units (ADUs), live/work space, conversion of larger homes into multiple units, and smaller lot sizes, but commented how that wasn't possible with current zoning. While attendees were concerned about overdevelopment and maintaining Williamstown's character, they acknowledged the low inventory and rising cost of housing.

STRONG MISSION STATEMENT
The Williamstown Planning Board initiated the effort in 2016,when it released a mission statement, which reads in part:

Current trends show a recent significant and projected continued decline in Berkshire County's population. Also, state and national trends show that coming generations, and even members of current generations, are looking away from traditional models of housing. This is a concern for the Planning Board. Trends show that folks are looking at smaller places to live, different and more efficient ways of living, and how to leave a smaller footprint. Locally, this trend can be seen in the speed of the lease out of the new Cable Mills building: within three months of ribbon cutting, over two thirds of the units have been occupied. This is a glimpse of the future and the board wants to respond to these changes.
Town leaders have said the success of Cable Millis – a former factory transformed into 61 apartments – showed that there is an appetite for more apartments within walking distance of downtown. "The big catalyst was Cable Mills," said Groff, who serves the board as the town planner. "The speed at which it was occupied really surprised people and showed pent-up demand for housing types that are not the single family house. We want to figure out how we can have people who want to live like that be welcomed in our community."

Consultant Jennifer Goldson and her team are currently compiling data and feedback from the event in preparation for a panel discussion planned in April.
For more information about the Williamstown effort and MHP's programs to help communities with affordable housing, contact MHP Program Coordinator Carsten Snow at 857-317-8583 or csnow@mhp.net.