Posted on November 6, 2022
The Massachusetts Homeowner Assistance Fund (Mass HAF) is now available to homeowners who are behind on their mortgage payments by at least three months because of the COVID-19 pandemic. The goal of HAF is to prevent foreclosures and displacements of eligible homeowners.
As of September 1, 2022: For new applications to the program, Mass HAF program assistance will be capped at $50,000 per household.

What does this mean?
If a homeowner is eligible for the Mass HAF program, Mass HAF will pay up to $50,000 in assistance. The homeowner's servicer (whoever they pay their mortgage to) may be able to help with a plan to help the homeowner get caught up on the remaining amount owed. If a homeowner owes more than $50,000, they are encouraged to still apply. The most important thing is to start an application.
**This does not affect applications submitted prior to September 1, 2022.**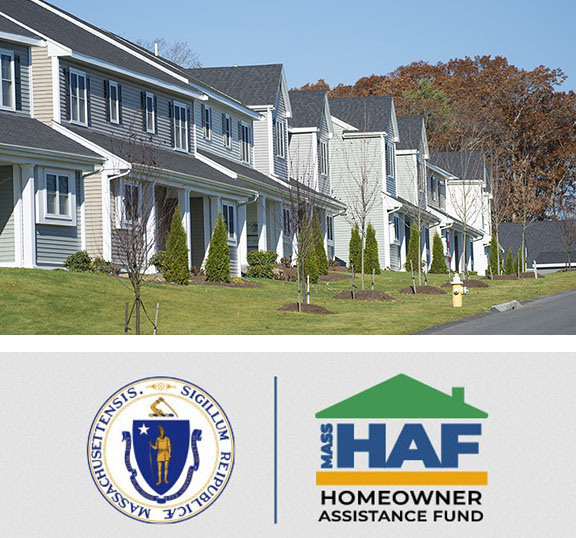 Funding for the $178 million Mass HAF program comes from the U.S. Department of Treasury, which was charged with developing a national homeowner assistance fund as part of the American Rescue Plan Act (ARPA) of 2021.
Homeowners must meet certain criteria to be eligible for Mass HAF assistance:
Must have experienced a COVID-related impact to their finances on or after January 21, 2020 that caused them to miss three or more mortgage payments
Must have an income of no more than 150 percent of the Area Median Income (AMI). Use the Mass HAF calculator to see if you qualify.
Must own and reside in the Massachusetts property for which they are applying for assistance
The property must be their primary residence.
Mass HAF provides homeowners access to certified Housing Counseling Agencies (HCAs) if they need advice or guidance on their financial situation, or if they need assistance completing an application.
If a homeowner is approved for Mass HAF assistance, funds will be provided to the homeowner's mortgage servicing company and applied to the borrower's mortgage account and the homeowner's loan will be brought current. Homeowners will not receive payments directly.
Homeowners can also apply for assistance with outstanding payments such as taxes, insurance, condominium fees, municipal charges like water and sewer that are subject to a lien on a property, or to fund a shortage in an escrow account. To apply, go to www.massmortgagehelp.org.
Consistent with U.S. Treasury guidance, Mass HAF prioritizes funds for qualified borrowers who face an urgent threat of foreclosure; who are socially-disadvantaged; who live in areas that have been hard-hit by the pandemic and who live in areas where incomes are below 100 percent of the area median.
To receive assistance, a homeowner's loan servicing company must participate in Mass HAF. Mass HAF program staff are actively working with servicers to onboard them to the program. To date, over 190 servicing companies are participating in Mass HAF.
The Massachusetts Housing Partnership (MHP) is managing day-to-day operations of Mass HAF. The Massachusetts Housing Finance Agency (MassHousing) is coordinating public awareness efforts. Mass HAF is overseen by the Massachusetts Executive Office for Administration and Finance (ANF), in collaboration with the Massachusetts Executive Office of Housing and Economic Development (EOHED), the Massachusetts Department of Housing and Community Development (DHCD), and the Massachusetts Division of Banks (the Division).
Related news